Price

RM14.90

RM14.90

Brand
Little Baby Grains
Size (L x W x H)
12 cm x 12 cm x 12 cm
Reward Points
14
Points Needed

1490

Availability
15
Quantity
Description
Highlight
Little Baby Grains Silky Soft Baby Noodles For Little Tummies 7m+
Specially formulated super soft noodles for little tummies. We took care to make these noodles from only premium, all-natural ingredients, without any nasties like preservatives, artificial flavours or colours. Noodle length has been customised for little fingers. Easy to cook, cooking on a stovetop takes about 3-4 minutes.
Weight: 200g, 5 servings.
Usage Instructions: Keep in cool and dry place.
Ingredients: Premium, non-GMO unbleached wheat flour, filtered water, fibre, organic Australian lake salt (0.5%)
Origin: Malaysia
Little Baby Grains by GNUBKINS is a leading brand of organic and natural products for babies and children. Founded by a Dr. Sears Certified Health Coach and mother, our products are trustworthy, honest and perfect for starting solids. We only select quality ingredients which are either organic or natural. Where possible, we source our ingredients from local farmers and we only work with ethical partners. We're passionate about helping you! From the moment your baby starts solids, we are there for you with recipes, instructions and guides.
*************************
Mi lembut yang khas dirumus untuk si manja. Mi bayi yang lembut, diperbuat daripada bahan-bahan yang premium dan semulajadi, sesuai untuk bayi dan kanak-kanak dari umur 7 bulan. Kami bertungkus lumus untuk memastikan hanya bahan-bahan premium dan semulajadi diguna dalam ramuan mi ini, tanpa bahan-bahan yang tidak sesuai seperti pengawet, perisa atau warna tiruan. Panjang mi telah disesuaikan untuk tangan si manja. Mudah dimasak - masa masak di atas dapur hanya lebih kurang 3-4 minit.
Berat: 200g, 5 hidangan
Cara Penggunaan: Simpan di dalam tempat dingin dan kering
Bahan-bahan: Tepung gandum premium, tanpa GMO, air tapis, serat, garam tasik organik Australia (0.5%) Asal-usul: Malaysia
Little Baby Grains by GNUBKINS ialah peneraju industri produk organik dan semulajadi untuk bayi dan kanak-kanak. Little Baby Grains diasaskan oleh seorang ibu dan Dr. Sears Health Coach yang bertauliah, dan semua produk kami adalah jujur, dipercayai dan terbaik untuk memulakan makanan pejal. Kami hanya memilih bahan-bahan organik atau semulajadi yang berkualiti. Kami mendapatkan bahan-bahan kami daripada petani tempatan, sebaik mungkin, dan kami hanya bekerjasama dengan perniagaan atau pihak yang beretika. Dari saat bayi anda mula makan, kami sedia membantu! Resipi dan panduan siap disediakan.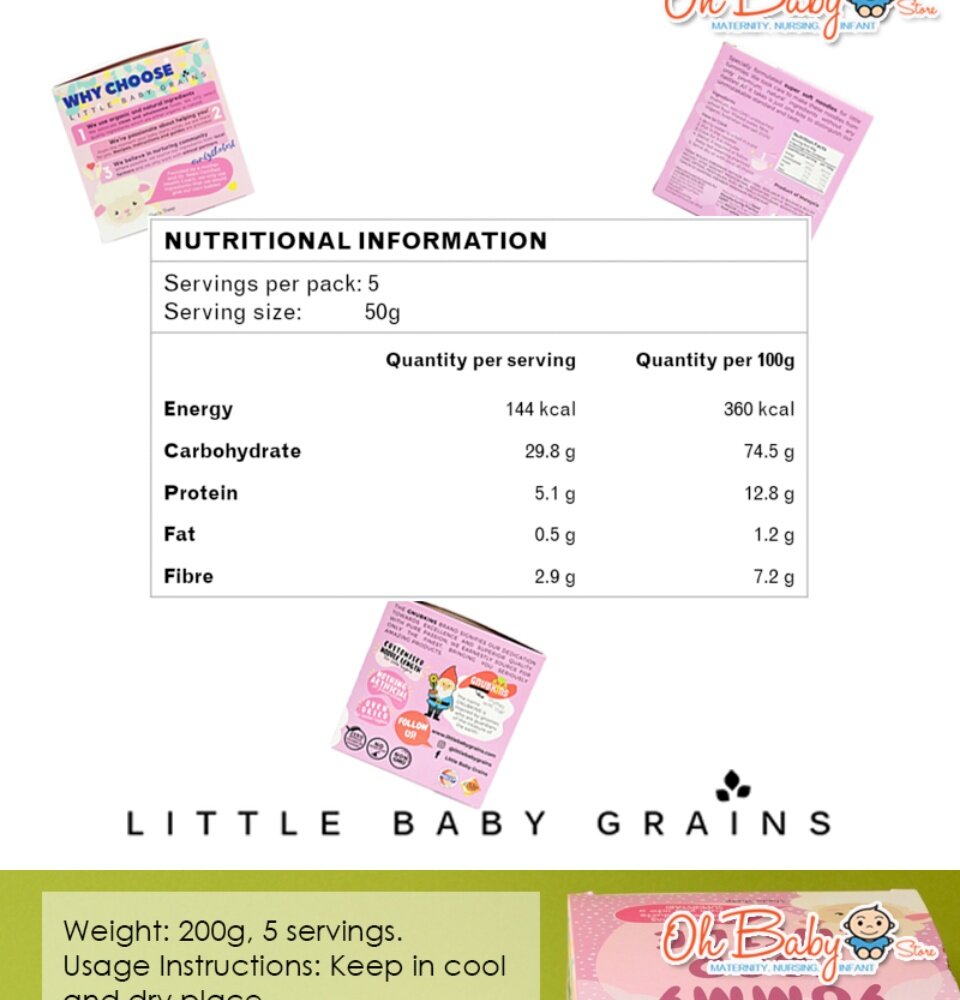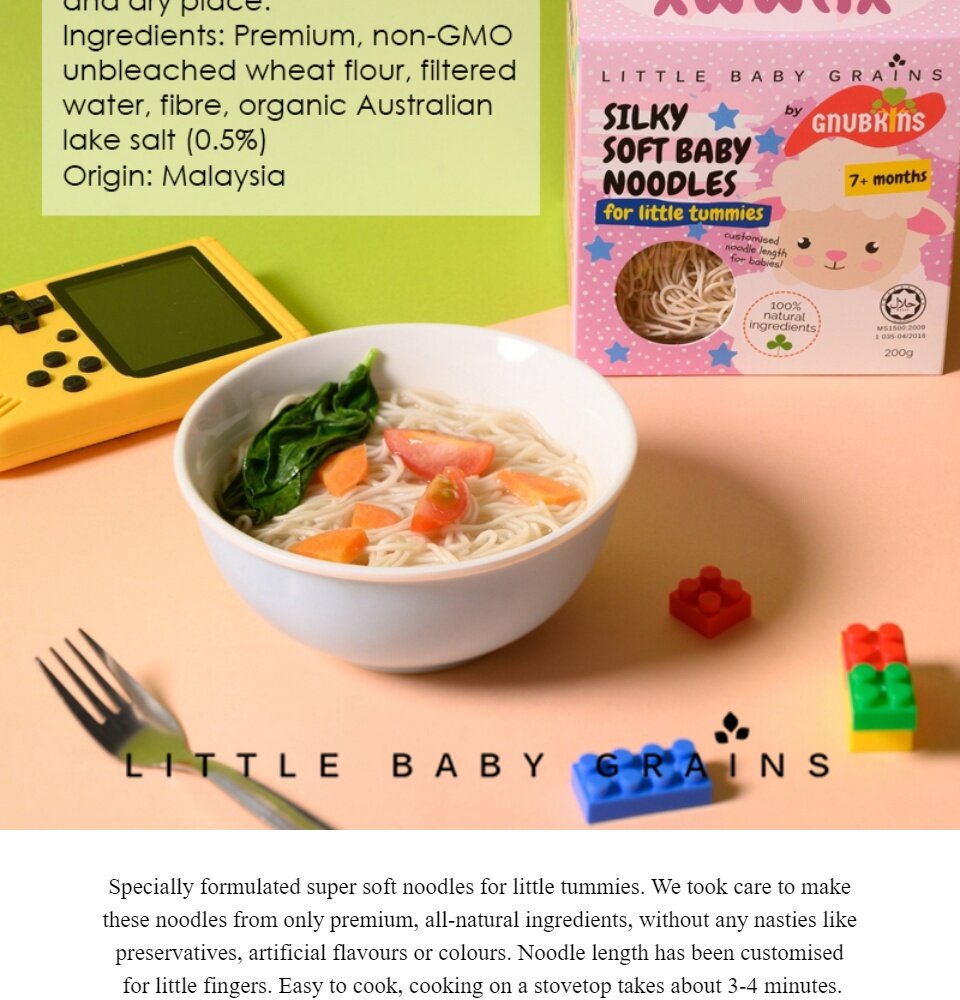 Reviews (0)
view all
back
What's in the box
Little Baby Grains Silky Soft Baby Noodles For Little Tummies 7m+